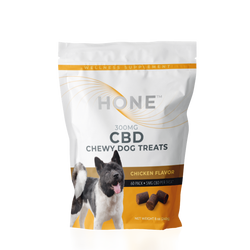 Crested River
Chewy CBD Pet Treats
60 chewy treats per bag
5 mg CBD each
300 mg per bag
Hone chicken flavored chewy treats for pets is completely organic and is formulated to be tasty and easy to feed. Our CBD propriety oil contains a whole-plant full spectrum cannabinoid profile. CBD can offer a range of benefits such as relief of discomfort, calming of anxieties, and maintaining a healthy coat of fur.
My Dog Loves Them
I would like to start my review by saying the day that these arrived I set them on the countertop and left them there without opening the packaging. I assumed that they would be safe... I was wrong.
My cats tore through the packaging while I was cleaning and enjoyed some nibbles, then my and my mother-in-law's dog convinced the cats to swipe a few off the counter for them.
In all, between all 8 of my animals, they ate 2/3 of the bag.
It was a *very* mellow day in my house but I did consult with my vet, my cats did not exhibit any worrying symptoms after consumption.
The dog these were intended for absolutely loves them! He reacts well to them, and I have noticed a difference in his separation and social anxiety over the last week. Will purchase again! ((Though I will need to make sure they get into the treat drawer upon arrival next time)).