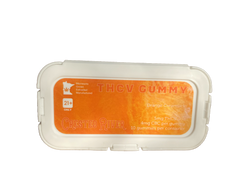 Crested River
THCV Gummies
Legal Minnesota THCV Gummies
These gummies are a natural blend of legal hemp extract that includes cannabinoids, terpenes, and other natural ingredients designed to provide a relaxing effect.  Contains a full 5mg of D9-THCV per gummy. Organic, vegan, non-GMO ingredients. Absolutely no artificial flavors or colors. Contains 0.3% or less Delta-9 THC. Legal in all 50 states. Not for sale to individuals under 21 years of age.

Appetite Suppressant - Energy - Promotes Mental Clarity 
Flavor: Orange Creamsicle

1 serving = 1 gummy
5mg THC per serving
50mg THC per bottle

Ingredients: Sugar, Glucose Syrup, Water, Malic Acid, Natural Flavors, Citric Acid, Hemp Extract, MCT Oil, Fruit and Vegetable Juice, Carnauba Wax

THCV Isolate, or tetrahydrocannabivarin, is one of the rare cannabinoids among over 80 cannabinoids that have been identified in the Cannabis sativa species, which include CBD and many other biologically active molecules. THCV isolate is a homologue of tetrahydrocannabinol (THC) having a propyl (3-carbon) side chain instead of a pentyl (5-carbon) group on the molecule.

Amazing products
There products are awesome and the customer service is as well.
Without a doubt- love it!
Good sleep
I have to cut them in 4 pieces and each night but really helps me sleep.
Tasty!
Really good flavor and a mild effect for me. I combine with a couple taffies to help me get to sleep.