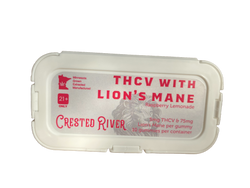 Crested River
THCV Gummies w/ Lion's Mane
Legal Minnesota THCV Gummies
These gummies are a natural blend of legal hemp extract that includes cannabinoids, terpenes, and other natural ingredients designed to provide a relaxing effect.  Contains a full 5mg of D9-THCV per gummy. Organic, vegan, non-GMO ingredients. Absolutely no artificial flavors or colors. Contains 0.3% or less Delta-9 THC. Legal in all 50 states. Not for sale to individuals under 21 years of age.

Appetite Suppressant - Energy - Promotes Mental Clarity 
Flavor: Raspberry Lemonade

1 serving = 1 gummy
5mg THC, 75mg Lion's Mane per serving
50mg THC, 750mg Lion's Mane per bottle

Ingredients: Sugar, Glucose Syrup, Water, Malic Acid, Natural Flavors, Lion's Mane Extract, Citric Acid, Hemp Extract, MCT Oil, Fruit and Vegetable Juice, Carnauba Wax

THCV Isolate, or tetrahydrocannabivarin, is one of the rare cannabinoids among over 80 cannabinoids that have been identified in the Cannabis sativa species, which include CBD and many other biologically active molecules. THCV isolate is a homologue of tetrahydrocannabinol (THC) having a propyl (3-carbon) side chain instead of a pentyl (5-carbon) group on the molecule.

Lion's mane (Hericium erinaceus) is a mushroom that grows on trunks of dead hardwood trees such as oak. It has a long history of use in East Asian medicine.

Lion's mane mushroom might improve nerve development and function. It might also protect nerves from becoming damaged. It also seems to help protect the lining in the stomach.

People use lion's mane mushroom for Alzheimer disease, dementia, stomach problems, and many other conditions, but there is no good scientific evidence to support these uses.
THCV Gummies w/ Lion's Mane
Time to focus! 🧘🏻‍♀️
These are a nice gummy to support focus and relieve anxiety. I take 1/4 a gummy in the morning before working out. It gives me a boost of clarity without any anxious feelings.
Focus
Product has definitely delivered a very upscale experience. It has helped me with jiu-jitsu when trying to choke somebody till they give up :)
Lions mane gummies
I really like them, really helping my sleep, Thx for recommendation !!