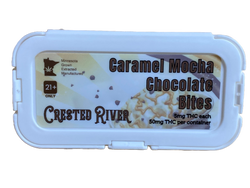 Crested River
Delta-9 THC Caramel Mocha Chocolate
Minnesota Legal Delta-9 THC Caramel Mocha Chocolate
5mg per piece, 50mg per container

Ingredients: Chocolate (Sugar, Completely Hydrogenated Palm Kernal Oil, Cocoa Powder), Emulsifier (Sunflower Lecithin, Sorbitan Tristearate, Natural Vanilla Extract) Hemp Extract.
Co-created with Creazioni, a Minnesota Woman Owned Company.
Delicious
I eat two at a time to get a good high going, great taste.
Really works!
These are the perfect way for me to de-stress after a long work day! It is remarkable how much it helps me for the rest of the evening and right through until morning. I always wake up refreshed after a good nights sleep! 5 stars!!
Get it!
I've tried other dispensaries around MN and they don't compare, this is a quality product that's both delicious and therapeutic.
Love!!
Love everything ive ordered! Caramel chocolates are DELICIOUS!