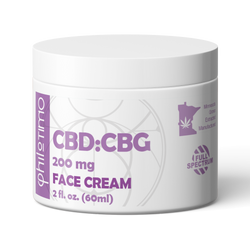 Crested River
Anti-Aging Face Cream
Grown in Minnesota
Extracted in Minnesota
Manufactured in Minnesota
Size: 2 fl oz, 60 ml
Potency: 200 mg total CBD, CBGA, CBG
Cucumber and Rose scented options
Kosher ingredients
GMO free, Gluten Free, Paraben Free, Pesticide Free
Eggshell membrane is the thin membrane just under the shell that you sometimes have difficulty removing when you're peeling a hard-boiled egg. WSEM is a unique water-soluble ingredient rich in the protein's collagen and elastin, a family of glycosaminoglycans that include chondroitin, glucosamine and hyaluronic acid, as well as the components desmosine and isodesmosine. Each of these components is native to eggshell membrane. Furthermore, eggshell membrane has been shown to increase cellular activity, raise elastin and collagen production, as well as prevent skin aging and reduce damage caused by UV (ultraviolet) light and inflammation.

WSEM is manufactured by Biova in Iowa.
Blah Blah here's more information as well as here
It give my skin a bit of tightness with just a light moisturizer
Anti Aging cream
Love the rose scent! Lightweight, and has not been an issue for my sensitive skin. Haven't been using long enough to notice any significant changes regarding aging.
CBD recovery cream
Gives just the right amount of moisture to wear during the day not too heavy or too light. I feel like my skin has perked up quite a bit since using this cream.
Amazing
Love love love! I saw results immediately:). I love the smell and the texture of this product.