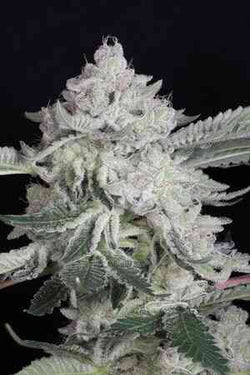 Twenty20 Mendacino
Bubba Whip F2 (F)
TWENTY20 MENDOCINO > BUBBA WHIP! (PRE-98 BUBBA X THE WHIP!)
3 seeds per pack
Lineage: Pre-98 Bubba x The Whip!

Type: Feminized Photoperiod, Indica

Filial Generation: F2

PVI (Phenotypic Variation Index):  Below Average

Indoor Flower Time: 58-68 days

Outdoor Harvest Date:  Mid Oct

Trellising Requirements:  Minimal but flowers are huge and heavy and may need some support

Height/Stretch: Below average indoors but outdoor plants get huge

Yield (per sf): Above Average

Color: Mostly dark green with purple expressions

Nose:  Light Bubba Kush smell,  deep kush gas and extremely hashy with slight candy undertones

Effects: Very potent and mind numbing.  Relaxing and sedative and definitely not "day time" smoke.

Tips from the grower: Plants do great with LST.  Moderate defoliation is recommended, especially with outdoor plants near harvest time.  This is an excellent choice for outdoor gardens but because of the dense foliage, keep an eye out for mold.  This is also an ideal selection for light deprivation greenhouses.

Notes: She is large and stout. This was a standout winner from our 2021 outdoor garden phenohunt. Expect big stout plants with super resinous and sticky buds. One of the most "hashy" tasting varieties in our lineup.
Feminized Photoperiod