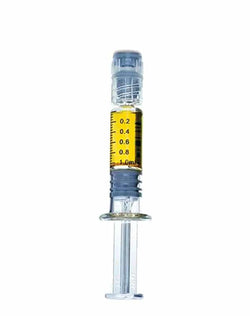 Crested River
CBC Distillate
Cannabichromene (CBC) is a major non-psychotropic phytocannabinoid that inhibits endocannabinoid inactivation and activates the transient receptor potential ankyrin-1 (TRPA1). CBC is a potent anti-inflammatory and could possibly be more useful than CBD as an antidepressant. In contrast, CBC does not produce a euphoric high like THC. 
However, CBC binds with certain cannabinoid receptors in the human body, including receptors linked to pain perception.
Furthermore, CBC may be up to 10 times more potent than CBD for treating stress and anxiety and also has significant anti-inflammatory, pain-reducing, antiviral, anti-tumor, and bone-growth-stimulating properties.