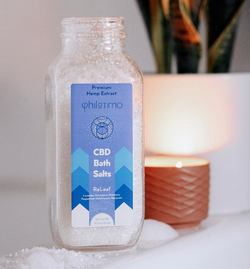 Crested River
CBD Bath Salts
Grown in Minnesota
Extracted in Minnesota
Manufactured in Minnesota
Our bath salts are lovingly made by hand with all natural ingredients and are available in different scent blends. Each order includes 16 oz (1 pound) of bath salts containing 400 mg CBD from Minnesota grown and extracted hemp flower.
Suggested Use: Add a heaping tablespoon to your bath. Put on your favorite playlist, light a candle, relax, take some deep breaths and soak for 30 minutes or more to enjoy effects. *


Ingredients: Dead Sea Salt, Epsom Salt, Coconut Oil, Hemp Derived Extract, Essential Oils, & lots of love!

*These statements have not been evaluated by the Food and Drug Administration. 
This  product is not intended to diagnose, treat, cure or prevent any disease.




CBD Bath salts
All the CBD Bath salts are phenomenal!!! A must try product!
Yes!
If you take baths and have chronic pain or muscle aches, you need this.
Love
These are amazing and I love them. Takes all of my pain away. I slept like a baby, and it smells so good. Will definitely be buying again.
Excellent
These salts worked within minutes for my chronic pain in my ankle. I had never used anything like this before - I'm SOLD!
Bath salts
Relaxing luxury. Skin was so soft