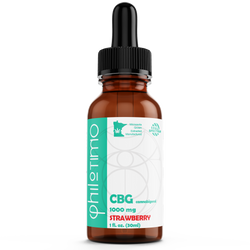 Crested River
CBG Full Spectrum Drops
Grown in Minnesota
Extracted in Minnesota
Manufactured in Minnesota
Size: 1 fl oz, 30 ml tincture with dropper
Potency: 1000 mg CBG, 33 mg/ml

Each drop contains full-spectrum CBG hemp oil. 

Differences of CBD and CBG
Nice little database of information
These statements have not been evaluated by the Food and Drug Administration. This product is not
 intended to diagnose, treat, cure, or prevent any disease
Top notch
So far my customers have nothing but good things to say about the product.
CBG Full Spectrum Drops
As usual, my Crested River order arrived promptly and intact! I like this product because I believe it helps me with focus and with pain.
CBG
I really like it so far I'm thinking about getting more I'm still working on it but thanks
Pain relief for disk damage and FMS, in addition to improved sleep.
A small amount (0.50ml) is sufficient in most situations.
I have been able to reduce the RX of narcotic pain med from the VA by 50%.
I will continue to use this product as long as it is available.
Exactly As Described
I suffer from chronic fatigue and this is the first medication that has helped.