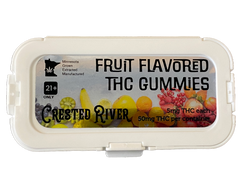 Crested River
Delta-9 THC Gummies
Legal Minnesota Delta-9 THC Gummies
These gummies are a natural blend of legal hemp extract that includes cannabinoids, terpenes, and other natural ingredients designed to provide a relaxing effect.  Contains a full 5mg D9 per gummy. Organic, vegan, non-GMO ingredients. Absolutely no artificial flavors or colors. Contains 0.3% or less Delta-9 THC. Legal in all 50 states. Not for sale to individuals under 21 years of age.

1 serving = 1 gummy
5mg THC per serving
50mg THC per bottle

Ingredients: Organic Tapioca Syrup, Organic Cane Sugar, Citric Acid, Vegetable and Fruit Powders, Fruit Pectin, Natural Colors and Flavors, Coconut Oil & Hemp Extract.
Lights Out Product!
I have had trouble getting to sleep and staying there for years. I am 69. By chance I found out about Crested River. Their Delta-9 has worked extremely well for me, to the point I am placing a re - order in minutes. And I am very comfortable recommending Crested River and Delta - 9 to others!
Best gummies around!
I have been purchasing the gummies and they are some of the best tasting and effects are great too!
Sleep
I have RA and getting regular sleep is difficult. The gummies have helped me get to sleep & stay asleep. Have not tried them during the day....