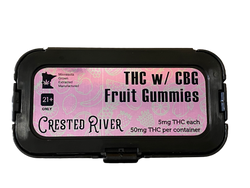 Crested River
Delta-9 THC w/ CBG Gummies
Legal Minnesota Delta-9 THC Gummies
These gummies are a natural blend of legal hemp extract that includes cannabinoids, terpenes, and other natural ingredients designed to provide a relaxing effect.  Contains a full 5mg of CBG and D9 per gummy. Organic, vegan, non-GMO ingredients. Absolutely no artificial flavors or colors. Contains 0.3% or less Delta-9 THC. Legal in all 50 states. Not for sale to individuals under 21 years of age.

1 serving = 1 gummy
5mg THC per serving
50mg THC per bottle
Third Party Lab Tested: View Certificate of Analysis 

Ingredients: Organic Tapioca Syrup, Organic Cane Sugar, Purified Water, Seaweed Extract, Citric Acid, Black Carrot Juice, Turmeric, Tri Sodium Nitrate, Natural Colors and Flavors & Hemp Extract.
A nice way to wind down
I take 1/2 a gummy before bed to sleep soundly and wake refreshed. Recommend for people new to cannabis! Will be ordering this again. 💚
Perfect for a good night's sleep!
These gummies w/ CBG are real life savers for me when I am trying to get to sleep every night. I used to toss and turn with back issues and I no longer have any problems falling asleep and staying asleep WIN WIN
Delta-9 opinion
Two things, Crested River is extremely fast shipping and unbelievable service. The gummies I ordered are perfect. I take one feel better. I would just recommend try one. I don't go to the moon but I stay exactly where I need to be. I think they are fantastic.
Love these gummies!
Better with the CBG, I take two and feel so relaxed in about 45-60 minutes.