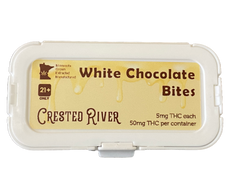 Crested River
Delta-9 THC White Chocolate
Minnesota Legal Delta-9 THC Mint Chocolate
5mg per piece, 50mg per bottle
Ingredients: Chocolate (Sugar, Completely Hydrogenated Palm Kernal Oil, Cocoa Powder), Emulsifier (Sunflower Lecithin, Sorbitan Tristearate, Natural Vanilla Extract) Hemp Extract.
Co-created with Creazioni, a Minnesota Woman Owned Company.
D9 THC White Chocolate bites
ABSOLUTELY LOVE the white chocolate bites. I didn't taste the bitterness you usually get with D9 edibles. I felt the high after 1/2 a bite and it was super yummy as well. Thanks for making this product!
Great product
All the chocolate products are delicious…like having a treat! They also help me get a restful nights sleep!
Delta-9 THC White Chocolate