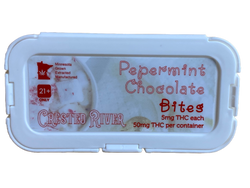 Crested River
Delta-9 THC White Peppermint Crunch Chocolate
Minnesota Legal Delta-9 THC White Peppermint Crunch Chocolate
"White peppermint chocolate with crushed pieces of peppermint candies"
5mg per piece, 50mg per container
Ingredients: Chocolate (Sugar, Completely Hydrogenated Palm Kernal Oil, Cocoa Powder), Emulsifier (Sunflower Lecithin, Sorbitan Tristearate, Natural Vanilla Extract) Hemp Extract.
Co-created with Creazioni, a Minnesota Woman Owned Company.
Great Taste, Great Service
Crested River is not your typical bandwagon dispensary shop. They know the industry inside and out. The knowledge and expertise is second to none. Keep moving the industry forward!
Tasty!
A nice white chocolate treat before going to bed! Helps me fall asleep and give me a good night's rest!
Great product !
The chocolates taste fantastic. I take them to sleep better when I need to and for fun when I want. Always a great mello high. Also very impressed with the website, easy to navigate and use. Will be buying again soon.
Absolutely amazing!
These tastes sooooo good and they work well. All products that I've tried from Crested River have been wonderful!