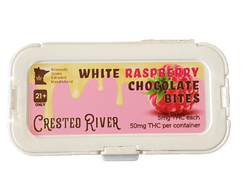 Crested River
Delta-9 THC White Raspberry Chocolate
Minnesota Legal Delta-9 THC White Raspberry Chocolate
5mg per piece, 50mg per bottle
Ingredients: Chocolate (Sugar, Completely Hydrogenated Palm Kernal Oil, Cocoa Powder), Emulsifier (Sunflower Lecithin, Sorbitan Tristearate, Natural Vanilla Extract) Hemp Extract.
Co-created with Creazioni, a Minnesota Woman Owned Company.
Perfect for a good night's sleep!
These White Raspberry Chocolate are my new favorite! They taste amazing and I am stocking up on them today!
Crested River is the best and shipping is amazingly FAST!
They taste amazing and I sleep so good!
Great product and very fast delivery
Fan
I like this product. It has a good taste and the 5 mg thc is just right for me. It gives me a nice, relaxing high in the evening and it helps my sleep. I will purchase again.
Delta-9 THC White Raspberry Chocolate