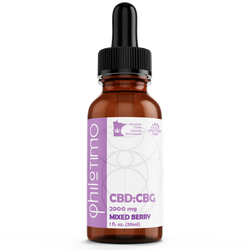 Crested River
CBD/CBG Full Spectrum Drops
Grown in Minnesota
Extracted in Minnesota
Manufactured in Minnesota
2000 mgs and 5000 mgs potencies.  Using Minnesota grown hemp and Minnesota processed extract respectively.
1:1 CBD and CBG blend
Each drop contains full-spectrum CBD and CBG hemp extract.

Ingredients:
Organically Grown Phytocannabinoid-Rich Hemp Oil, MCT Oil and flavoring 

Differences of CBD and CBG
Nice little database of information
These statements have not been evaluated by the Food and Drug Administration. This product is not
 intended to diagnose, treat, cure, or prevent any disease
Great!
These drops keep me feeling even-keeled so they are my go-to when I feel the stress piling up. The fruit flavors are the best! My only slight complaint is the bottles can be difficult to open but it's not worth knocking a star off for that.
Hi Jennifer - several people have said that about the child resistant top. Unfortunately, it is required by law, but if you ask for a normal dropper in the order notes, we can put an extra non child resistant dropper in the package.
trial
I have been using this for 2 weeks now and my hands are pretty much pain free
CGD/CBG full spectrum
I've had horrific back pain for 4 years…. Scoliosis, bulging discs, stenosis, arthritis….. ugh. Have tried chiropractors, acupuncture, prescription drugs, medical marijuana, exercise that I can manage….still inpain and want energy, not the side effects of THC. CBD/CBG Full spectrum is HELPING! Yay! Do take more often than recommended-don't know if that's a problem. Now, bought some for sister, recommended to son-in-law……thank you Crested River!!
Released from pain
I have been trying this product for years now and have got to say, it works well with my wife condition. She has been very happy and pain free. Thanks
Excellent Product
These products help me out immensely. I use them everyday.