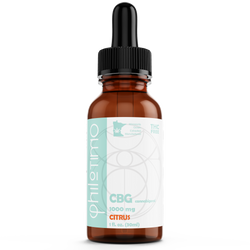 Crested River
CBG THC Free Drops
Grown in Minnesota
Extracted in Minnesota
Manufactured in Minnesota
Size: 1 fl oz, 30 ml tincture with dropper
Potency: 1000 mg CBG, 33 mg/ml


Each drop contains THC Free CBG hemp oil. 

Differences of CBD and CBG
Nice little database of information
These statements have not been evaluated by the Food and Drug Administration. This product is not
 intended to diagnose, treat, cure, or prevent any disease
For Focus and Anti-Anxiety
I use these drops to reduce my mental anxiety symptoms and increase my focus. They do exactly what I need without any side effects. Better results than the prescription-based pharmaceuticals that I have used in the past. This is the perfect product for my needs.
Love it
Has been helping a lot with my anxiety and panic attacks and stress.
Daily Help
I am so glad i learned about daily cbg use. The people at Crested River are Amazing!! Not only guide you with products, they Teach you about the products! Nothing to hide with these people!! My daily use of CBG has definitely helped and changed how i feel every day!! But you have to take it daily for it to work and maintain. Thank You Shawn!! I will shop with no other! ~ jacci
I really like them!!use them every day.
Awesome product !!
Ive only started to use the CBG drops and they are already helping my blood sugar levels and I am loosing weight. I Love this product and for sure will be ordering more.