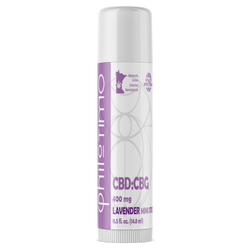 Crested River
Salve Minis
Grown in Minnesota
Extracted in Minnesota
Manufactured in Minnesota
A balanced combination of CBD and CBG in a phytocannabinoid-rich hemp oil, beeswax and aromatic essential oils helps soothe discomfort and support skin health.

In a "mini stick" or "jumbo lip balm" - six of one, half a dozen of another.

Size: 0.5 oz, 15 ml
Potency: 200 mg CBD, 200 mg CBG

Lavender: French Lavender
Menthol: Peppermint Oil and Menthol Crystals (not as intense as icy hot)
Natural: No added scents
Volcano: Tangerine, grapefruit, geranium and cypress.  (mildly fruity and sweet)

Made with certified Minnesota Grown beeswax by Gardner Bees in Sleepy Eye, MN
Differences of CBD and CBG
Nice little database of information
These statements have not been evaluated by the Food and Drug Administration. This product is not
 intended to diagnose, treat, cure, or prevent any disease
Love this
I really like this for my tension headaches that I get while driving. It smells great, and works wonders!