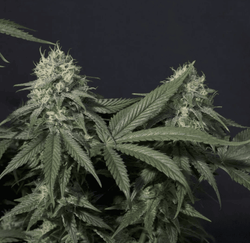 Fast Buds
Tropicana Poison FAST (F)
FASTBUDS > TROPICANA COOKIES FAST (TROPICANA COOKIES x TROPICANA COOKIES AUTO)
3 seeds per pack
This strain grows beautiful purple flowers with oftentimes light but predominantly dark hues that are highlighted by hints of pink and blue, and dark-orange hairs scattered all over. Tropicana Cookies FF buds develop dense and compact, with a thick resin layer that gives them an almost fluffy appearance and very few sugar leaves, making your trimming sessions as easy as possible. Breaking the buds open reveals a sweet almost candy-like blend of citrus peels and sandalwood that's so unique you'll have all your friends green with envy. Definitely the right choice for hash makers and extractors looking for that special terp profile.
With up to 28% THC, Tropicana Cookies FF effects start as a nice energizing head rush that gets your gears running and puts you in a focused, creative state of mind. As the effect builds up, it'll hit your whole body with a deeply relaxing sensation that alleviates pain and will have you smiling from ear to ear. This version is the ideal daytime and nighttime smoke as it will boost your mood and make a night out with friends even better but can also quiet your mind and make you sleep before you can count to ten. No matter the situation, this one is a must for those seeking powerful and flavorful strains.
This feminized photoperiod version grows very fast and strong, developing a fat, stocky, medium-sized main cola with shorter side branches, typical of Indica-leaning hybrids. Tropicana Cookies FF develops short internodal spacing with buds that grow stacked on top of each other, making it the ideal version for growers of all levels looking to get monster yields without having to deal with monster plants as this variety can produce up to 650 g/m2 in a 6-7 week flower time.
Feminized FAST Flowering Photoperiod