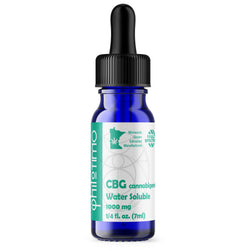 Crested River
Water Soluble CBG Drops
10% water soluble CBD drops. Use in your favorite beverage or recipe.
1 bottle contains 1000 mg of CBD
1 drop is approximately 3 mg CBD
Produced in accordance with the 2018 Farm Bill.
The statements made regarding these products have not been evaluated by the Food and Drug Administration. The efficacy of these products has not been confirmed by FDA-approved research. These products are not intended to diagnose, treat, cure or prevent any disease.
Disillusioned
Added drops to drink and hours later remembered that I had tried it. In other words, there was no change in any way.
Sorry you were not satisfied with your experience. Just so you know, this cannabinoid is not psychoactive. The effects are only noticeable if in fact you have an ailment that it addresses. Furthermore, cannabinoids are not a silver bullet and may not necessarily address specifically what you want them to do.
CBG water soluble drops
Awesome product! Happy me and happy clients. Recent client purchase was to help with, and it did, easing of stomach issues.
Fisher
I like these better than the CBD. Don't feel as sluggish.